I hope your new year is off to a great start! Have you had time to think about the goals you want to achieve in 2023? Is this the year you land that dream job, plan your dream wedding, or finally buy your dream home?
Whatever your goals are for the year ahead, I have the perfect Goal Action Plan to help you achieve them. Having a plan to set out your big goals into a series of small steps gives you the best chance of reaching them.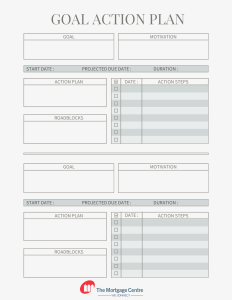 Now, let's make them happen!
My goal this year is to continually keep my eye on mortgage rates/market movements and offer my clients the best available options to meet their needs with the highest quality service. If there is anything I can help you with to achieve any home resolutions you may have this year, please don't hesitate to reach out!